Neighborhood News
HAPPY HOLIDAYS! It's hard to believe it's almost time to celebrate the new year. Overall, 2016 has been one of the best years for the housing market in nearly a decade, especially in Folsom. From several new businesses to being named the number one place to raise a family in California, our town continues to thrive among the nation's best small cities. With the amount of economic growth in the greater Sacramento area, I expect this trend to continue into 2017!
So what else is coming to Folsom? If you've driven on Highway 50 lately, you've probably noticed a large development being built near Costco. That project will soon be Life Time Athletic, set to open in early 2017. The state-of-the-art facility will offer a full-service spa, a cafe, nationally renowned group fitness and personal training programs, an indoor cycling studio, an indoor turf field and cutting-edge fitness equipment.
Turning to neighborhood projects. I have an update on a development near Lexington Hills. Elliott Homes officials provided more information on both their communities in Empire Ranch. Officials say Riata at Empire Ranch is completely released and there are 21 homes remaining for sale. Veranda at Empire Ranch, the new patio home community, has 6 homes available in the current release. Officials say the remaining 57 will be released over the next 6 months.
If you have any questions about these developments, please call me at (916) 804-5658 or you can email me at Robert@robertyost.net
Folsom December Events
Historic Folsom Christmas Tree Lighting Ceremony
Friday, December 2nd, 2016
6:00pm-9:00pm (rain or shine)
See the district brighten up during the tree lighting ceremony!
Located in the plaza at the ice skating rink.
48th Annual Christmas Arts and Crafts Fair
Saturday, December 3rd, 2016
8:00am-4:00pm (rain or shine)
Sutter Street is filled with quality arts, crafts and gifts.
Enjoy live music, carolers, face painting and more!
3rd Annual Folsom Christmas Classic
5k & 10k Walk/Run and Santa Fun Run!
Saturday, December 17th, 2016
8:00am-11:30am
Holiday themed, family oriented event at Vista del Lago High School.
Enjoy carolers, free hot chocolate, Santa Claus and vendors!
Winter Home Maintenance Tips
As fall turns into winter this month, it's time to tackle some home maintenance tasks to keep your home cozy during the cold weather ahead!
Clean the Fireplace
Get your fireplace fire-ready by hiring a chimney professional to make sure it's clean and in good condition.
Clean the Gutters and Trim Trees
Debris can accumulate and cause blockages, damage gutters, or bend them. Tend to overhanging trees or dead branches. It's recommended you hire a professional to get the job done safely.
Exterior Maintenance
Tighten up your home's exterior by caulking and sealing cracks around doors and windows.
Furnace Filter
Your heating system works extra hard during the winter, so be sure to replace the air filter.
Inspect Your Roof
Winter conditions can cause your roof to break. It's recommended you hire a professional to check your roof and perform any necessary repairs.
Yard and Garden
Protect your garden hoses and other tools from freezing by storing them in your shed or garage.
Folsom Real Estate
As Donald Trump pulls off what many say is the biggest upset in U.S. election history, what does his presidential victory mean for the future of the housing market?
Although it's difficult to predict exactly how - or if - Trump's presidency will greatly impact residential Real Estate, one thing is certain, it won't happen overnight. In fact, we may not see any effects until Trump moves into the White House next year.
Still, the biggest concern nationwide is rising rates. In the week following the election, mortgage rates climbed nearly half a percentage point. However, rates are always fluctuating and historically during an election year rates rise, so the spike shouldn't be too surprising.
Here in Folsom, demand from aspiring homebuyers won't taper off any time soon, even through the holidays. Here are three great reasons not to wait until after the holidays to sell:
Relocation buyers are out there. Companies are not concerned with holiday time and if the buyers have kids, they want them to get into school after the holidays.
Purchasers that are looking for a home during the holidays are serious buyers and are ready to buy.
There is less competition for you as a seller right now. The supply of listings increases substantially after the holidays.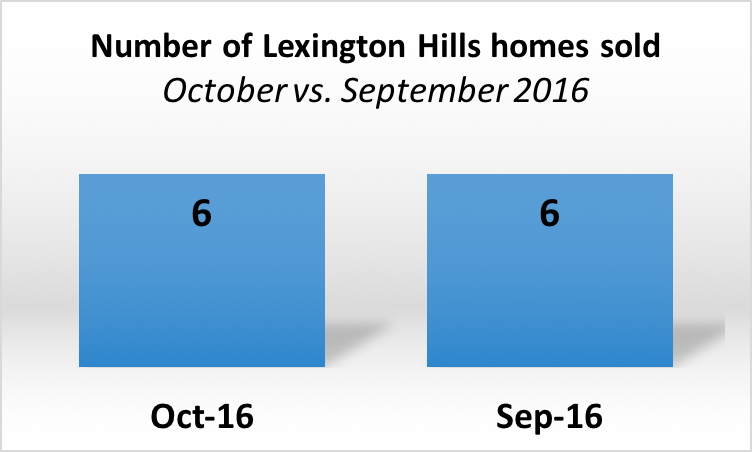 Folsom Market Report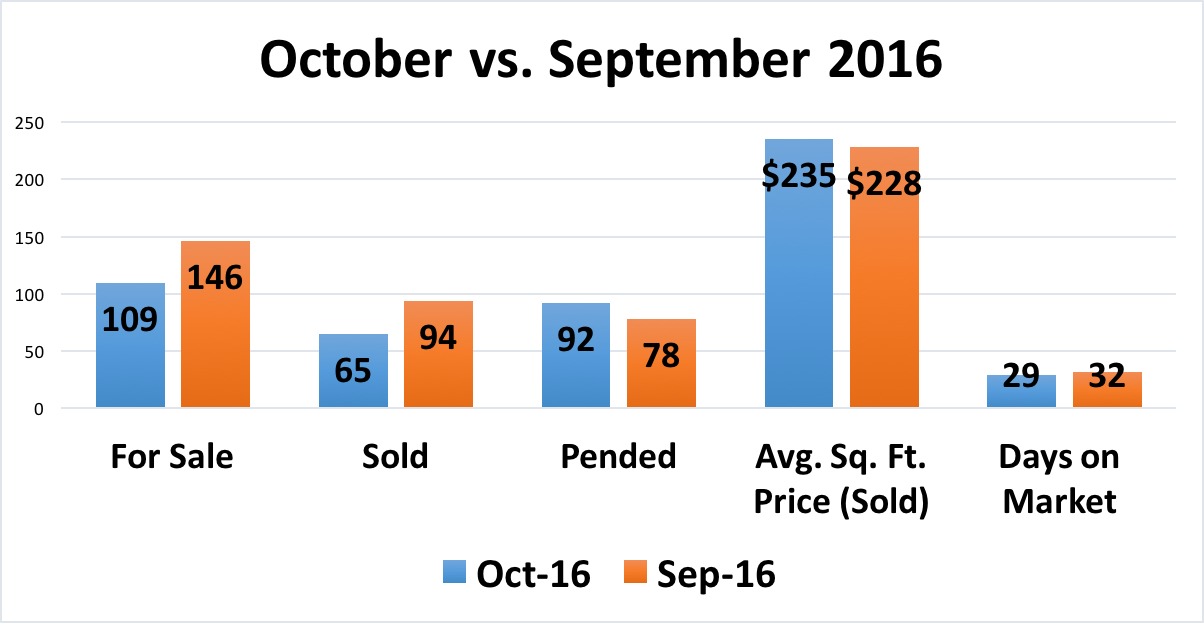 Folsom's market report from October 2016 to September 2016 shows a 25 percent decrease in the number of homes for sale and a 31 percent decrease in the number of homes sold. However, there was an 18 percent increase in the number of homes pending.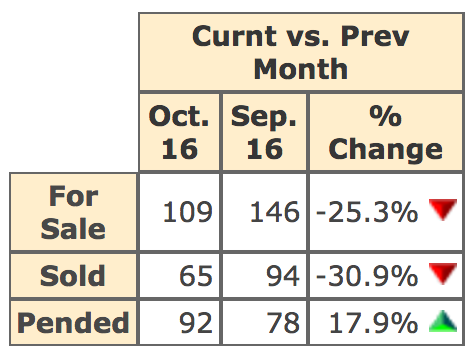 (Courtesy: Trendgraphix)
For Sale in Lexington Hills
345 Prewett Dr, Folsom, CA 95630, 4-5 beds, 3 baths, 2918 sq. ft.
Offered at: $529,000
129 Dulverton Cir, Folsom, CA 95630, 4 beds, 4 baths, 3011 sq. ft.
Offered at: $585,000
174 Chadwick Way, Folsom, CA 95630, 4 beds, 3 baths, 2759 sq. ft.
Offered at: $570,000
Just Sold in Lexington Hills
97 Ainsworth Way, Folsom, CA 95630, 3 beds, 2 baths, 1814 sq. ft.
Sold for: $436,000
132 Chadwick Way, Folsom, CA 95630, 5 beds, 2.5 baths, 2585 sq. ft.
Sold for: $549,000
440 N Lexington Dr, Folsom, CA 95630, 3 beds, 2.5 baths, 1742 sq. ft.
Sold for: $461,000