Neighborhood News
From beautiful Folsom Lake, to biking and hiking trails, highly regarded schools and low crime rates, Folsom continues to be one of the most desirable suburbs to live within Sacramento County.
As a Folsom Realtor, I am proud to be part of this thriving city. Folsom continues to grow every year and what you may not know about your Lexington Hills community, it was one of the fastest growing neighborhoods in Folsom nearly 30 years ago. Many homes were built in the late 1980's and early 1990's, which makes Lexington Hills one of the more established areas in Folsom.
In this new monthly newsletter, I will share the latest on developments and happenings around Folsom and the Lexington Hills neighborhood. Plus, local housing market updates, tips, events and much more.
One project near Lexington Hills expected to begin construction soon is called the 'Harvest Subdivision.' The plan includes 116 homes and will be located south/west of the Empire Ranch Golf Club. I reached out to the developer of this project and hope to have more information about it in my next newsletter.
Folsom events on Historic Sutter Street this month:
49th Antique Peddlers Fair: Sunday, September 18th from 8am-4pm. Tons of antiques & collectibles will be for sale.
Folsom Live: Saturday, September 24th starting at 5pm. This event includes tons of music, food, drinks & more. General Admission tickets are $30. For more information go to: www.folsomlive.com
End of Summer Home Maintenance Tips
With summer coming to an end, it's time to begin your fall home prep. Hot summer temperatures can take a toll on a home both inside and out, so it's important to make any necessary repairs. Here are a few tips to help ease your end of summer home maintenance:
Check the chimney
Make sure it's in good condition and clean. Neglected chimneys can easily start a fire.
Clean the gutters
Debris can accumulate and cause blockages, damage gutters, or bend them.
Crank up the heat
Check your heating system before temperatures drop.
Protect your deck, patio, or porch
Sweep away the summer dust and check the surface of your outdoor spaces for signs of holes, cracks or chipping paint.
*Note: It's recommended to hire a professional for any repairs that are not easily accessible*
Folsom Real Estate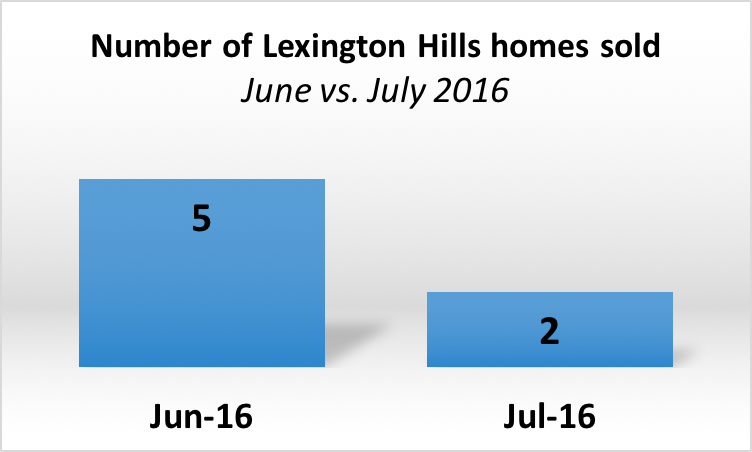 It's hard to believe it's already September! So with summer coming to an end, how is the current housing market?
For sellers: If you're thinking about selling your home, don't wait! There are more buyers ready to purchase property now than there has been in years! The supply of homes for sale in Folsom is not keeping up with the demand of buyers.
For buyers: Competition is fierce! Prices are still climbing and won't stop anytime soon. However, buyers who start their hunt early will likely face less competition and have just as many homes for-sale to consider.
Folsom Market Report
Folsom's market report from June 2016 to July 2016 shows there was an 11 percent increase in the number of homes for sale, but a 31 percent decrease in the number of homes sold.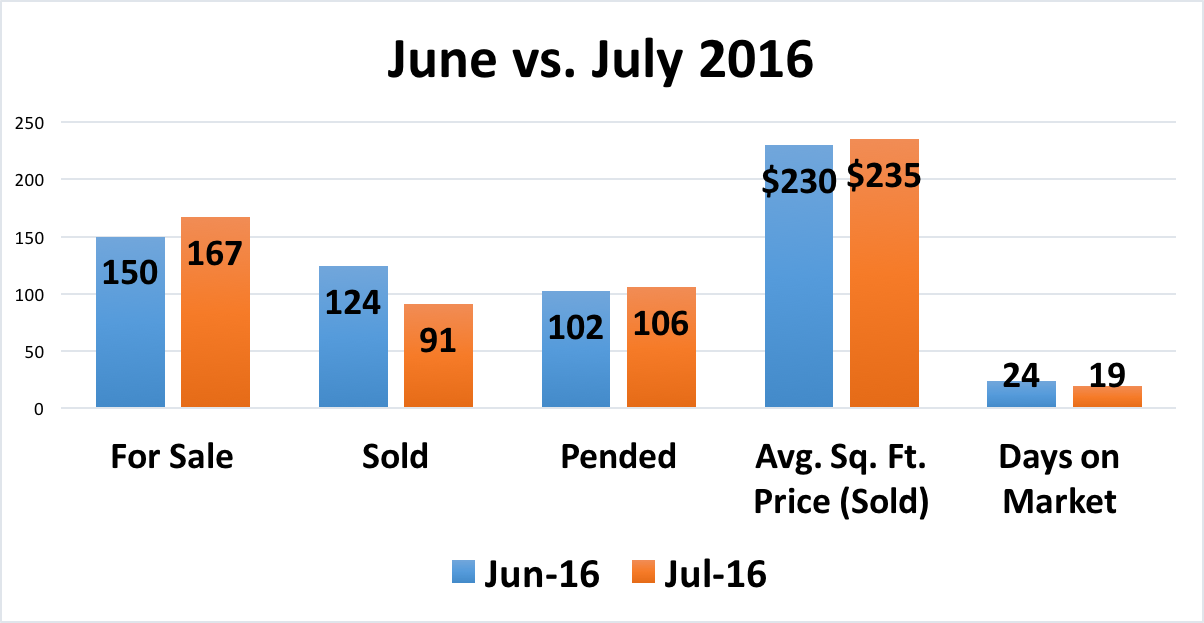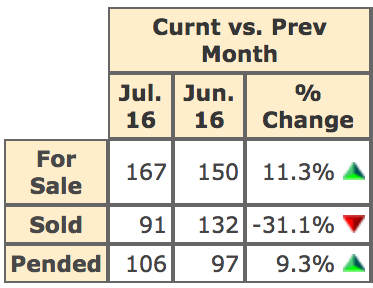 (Courtesy: Trendgraphix)
Just listed in Lexington Hills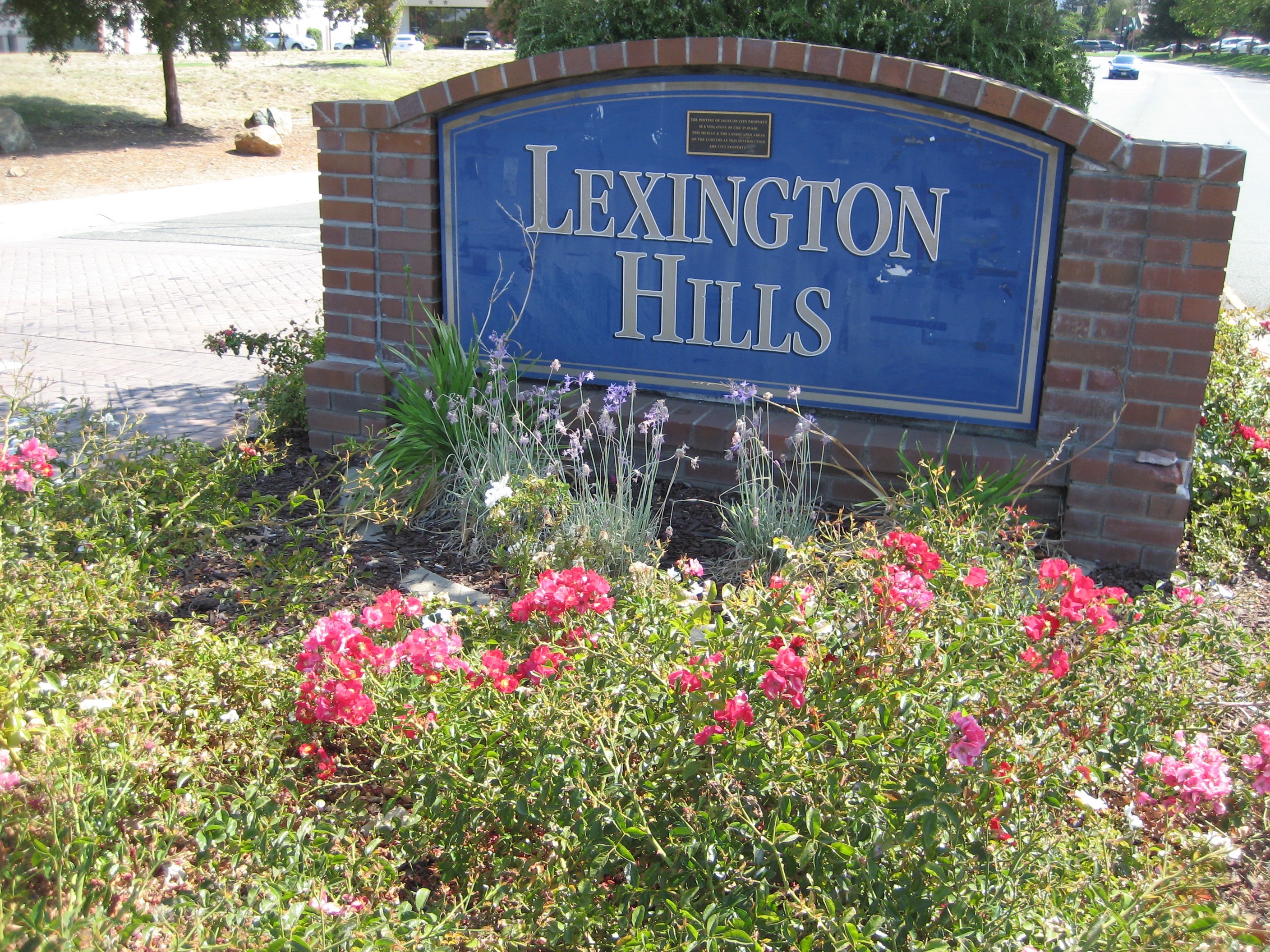 -173 Baurer Cir, Folsom, CA 95630
Offered at: $550,000, 4 beds, 3 baths, 2,453 sq. ft.
-283 Silberhorn Dr, Folsom, CA 95630
Offered at: $575,000 5 beds, 3 baths, 2,918 sq. ft.
-160 Stonington Way, Folsom, CA 95630
Offered at: $684,000 4 beds, 3 baths, 3,073 sq. ft.