July 2017
---
57th Annual Folsom Pro Rodeo
Saturday, July 1, 2017 – Monday July 3, 2017, Gates open at 6:00pm
Events include spectacular fireworks show, Roping, Riding, Mutton Busting, the American Flag arriving by parachute and Live Music.
Rodeo takes place at the Dan Russell Arena.
Cost: $15.50-$21.50
Peach Festival
Saturday, July 15, 2017, 8:00am-2:00pm
The Peach Festival will be held during the Farmers Market in the Plaza of Historic Folsom.
905 Leidesdorff St, Folsom CA, 95630
Cost: Free entry!
EDMT Roald Dahl's Willy Wonka
Friday, July 7 - Sunday, July 16, 2017, Times Vary
Roald Dahl's timeless story of the world-famous candy man and his quest to find an heir comes to chocolate-covered life! Come take a fantasy ride into the land of pure imagination!
10 College Parkway, Folsom, CA 95630
Cost: $16.00- $31.00
www.harriscenter.net
June 2017
---
3rd Annual Powerfest: Taps & Tunes
Saturday, June 10, 2017th, 5:00pm-8:00pm
Event includes beer tasting, tours, live music, exhibits and more!
Folsom Powerhouse State Historic Park
9980 Greenback Lane, Folsom, CA 95630
Cost: $20.00-$25.00
---
Crush Wine Run
Saturday June 17th 2017, 8:00am-11:00am
This 5k fun run features scenic running trails and finishes with a post-race festival complete with wine and music. The event benefits charities that work to end human trafficking.
101 Parkshore Dr, Folsom, CA 95630
Cost: $30.00-$75.00
---
FOLSOM SUMMER 2017 CONCERT SERIES!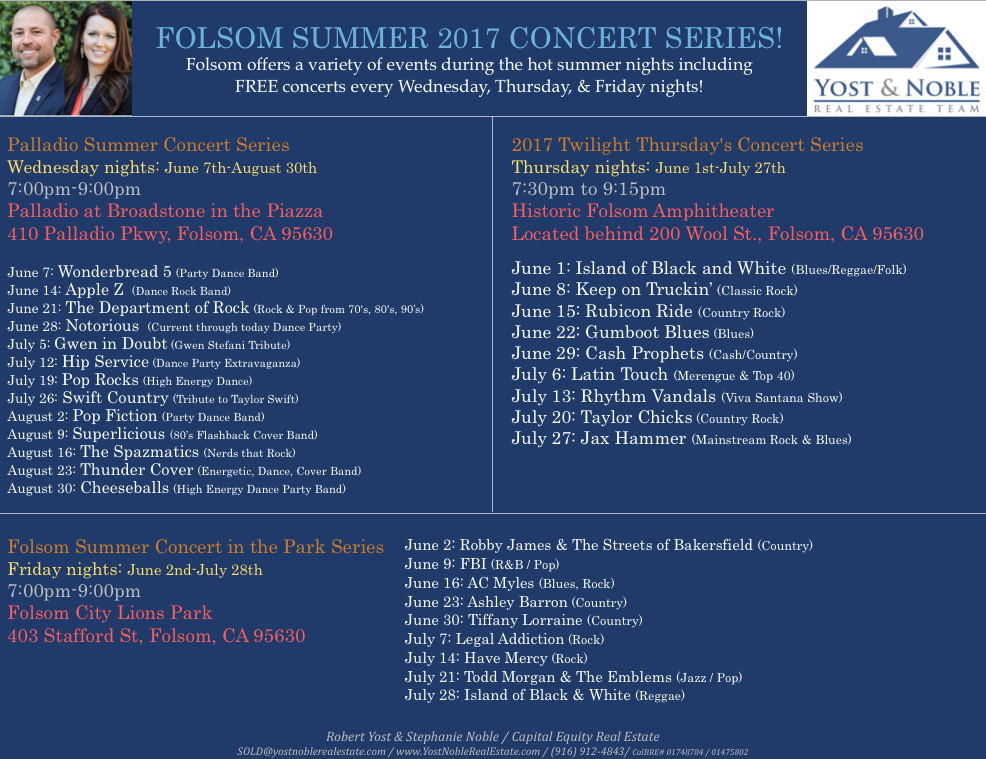 ---
May 2017
Folsom Ride with the Mayor
Thursday, May 11th, 2017, 7:30am
Enjoy a free group ride on Thursday, May 11 to celebrate Bike Month. Riders meet at 7:30 a.m. in Folsom's Historic District to fuel up with coffee and pastries before the 8:30 a.m. departure. Along the 30-mile route, the group will meet up with other riders from around the region, enjoy a rest stop and a catered lunch, and finish at the State Capitol grounds to join in the Capitol Bike Fest. This event is free, but participants are encouraged to pre-register to assist with food counts. Questions about the event can be directed to Jim Konopka.
(Courtesy: City of Folsom)
---
Folsom Symphony String Quartet
Friday, May 12th, 2017, 7:00pm
The Folsom Symphony String Quartet performs for free in the plaza.
Historic Sutter Street
Parking: 905 Leidesdorff Street, Folsom, CA 95630
Cost: Admission is free
---
Love My Mom 5K Run
Saturday, May 13th, 2017, 8:30am
Kick off your Mother's Day weekend with a morning of fitness and fun! At the finish area, all participants can enjoy vendor booths, music, and light refreshments.
Race starts/finishes in the Whole Foods parking lot at the Palladio.
270 Palladio Pkwy, Folsom, CA 95630
Cost: $15.00-$35.00 per person
---
HANGTOWN AUTOGRAPH SIGNING EVENT
Thursday, May 18th, 5:00pm-7:00pm
Hangtown Autograph Signing Event. Your favorite riders from Honda, Kawasaki, Suzuki, Yamaha and KTM will be signing autographs in the Whole Foods Parking lot to promote Hangtown Motocross Nationals on Saturday, May 20th. Due to the massive crowds for FREE autographs you must present a General Admission pass to gain access to the autograph lines. All Persons in line must have a general admission ticket or you can purchase one at the Autograph signing.
(Courtesy: Palladio)
---
Folsom Rotary Foundation Wine & Dine
Sunday, May 21st, 2017, 5:30pm
Join the Rotary Club of Folsom for the 24th Annual Folsom Rotary Foundation Wine & Dine. All proceeds from the event are dedicated to local projects focused on community, education and health. Event includes wine and local craft beer tastings, a silent auction and more.
Folsom Community Center
52 Natoma St., Folsom, CA 95630
Cost: $40.00 ($45.00 at the door)
---
April 2017
Date Night – Late Night!
Friday, April 7th, 2017, 5:00pm-9:00pm (And The First Friday of Every Month)
The Folsom Historic Merchants invite you to enjoy Date Night Late Night on the First Friday of each month. Stroll Sutter Street and the entire Historic District. Participating merchants will be open until 9pm. Stroll the twinkle lit streets, shop the warm, unique stores, meet the merchants, enjoy specials and stick around for a bite to eat or a sip of wine. Restaurants and bars will remain open past 9pm. Shops in Historic Folsom are family owned and operated and each will have their own offerings and flair. Some things to look for will be art, live music, refreshments and specials. Show Historic Folsom your love!
Parking: 905 Leidesdorff Street, Folsom, CA 95630
(Courtesy: Folsom Historic District Association)
---
51st Annual Antique and Vintage Market
April 8th, 2017, 8:00am-3:00pm
Four blocks of Historic Sutter Street will be filled with quality antique and collectible dealers. Great food and live entertainment will also be featured!
Parking: 905 Leidesdorff Street, Folsom, CA 95630
Cost: Admission is free
---
Palladio Spring Fling
April 9th, 2017, 1:00pm-5:00pm
This all ages event will feature a special visit from the Easter Bunny! Plus, tons of fun Spring Activities for kids. Remember to bring your camera and take a picture of your loved ones with the Easter Bunny!
Palladio at Broadstone: 410 Palladio Parkway, Folsom, CA 95630
Cost: Admission is free
---
Capital City Cruisers Car Show
April 15th, 2017, 10:00am-3:00pm
Make plans to attend one of the biggest and best car events in the Greater Sacramento area! The Capital City Cruisers invites you to see some great Cars. 300-400 of Northern California's finest Hot Rods, Street Rods, Muscle & Classic Cars will be in attendance.
Parking Lot next to Nordstrom Rack: 440 Palladio Pkwy, Folsom, CA 95630
Cost: Admission is free
---
Folsom's 23rd Annual Focusing on Environmental Stewardship
April 29th, 2017, 9:00am-12:00pm
Volunteers may select from projects to beautify and enhance Folsom's recreational trail system or helping to improve the area's creeks, waterways and open space. Folsom Trails Day volunteers will assist with planting native trees and making other improvements to the Johnny Cash Trail. Regional Creek Week volunteers will help clean up sections of the Humbug and Willow Creeks, and pick up litter in some of the City's open space preserves. All registered volunteers receive a commemorative T-shirt, lunch, and beverages; volunteers should dress in work clothes and sturdy shoes and work gloves are recommended.
(Courtesy: City of Folsom)
---
Lake Natoma Waterfront
April 14th, 2017, 5:00pm (rain or shine)
Ribbon cutting/trail opening. Located on the trail off Gold Lake Dr. below Karen's Bakery. Folsom's Lake Natoma Waterfront Trail will provide access from the Historic District to the lakefront and the American River Parkway
(Courtesy: Folsom Historic District Association & City of Folsom)
---
Saturday Farmers Market
Every Saturday - Year-round! 8:00am-1:00pm
More than 40 farmers/vendors are part of the Saturday Farmers Market around the Historic Railroad Turntable and Public Plaza in Historic Folsom. Enjoy certified farmers' locally grown seasonal fruits and vegetables. Plus, freshly made baked goods, fresh eggs and dairy items, live music and so much more!
Parking: 905 Leidesdorff Street, Folsom, CA 95630
(Courtesy: Folsom Historic District Association)
---
*We would love to feature all local events! Email us to submit an event: SOLD@yostnoblerealestate.com